Large capacity chalet for rent in La Rosière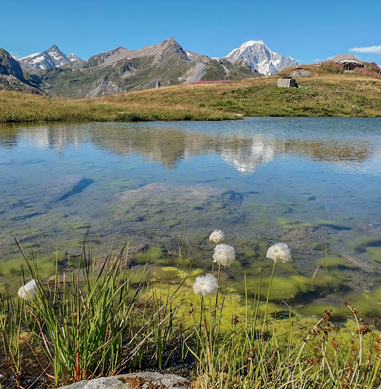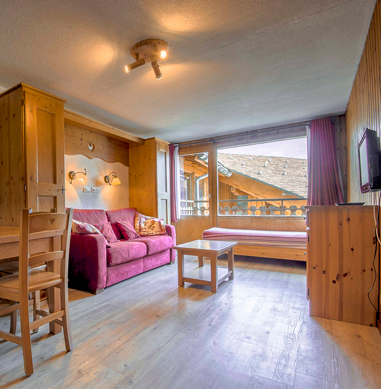 Chalet for 35 people in Savoie
For 25, 30 or 35 people
The Tyrol-Panoramic La Rosière, offers a independent chalet in free management for 35 people for groups, seminars, anniversaries… with access to heated, covered pool and spa.
A group chalet at the foot of the ski slopes
Large cottage in Savoie, the rental of the chalet Esther allows you to organize to stay in a group of 35 people at the foot of the ski slopes of La Rosière. Located opposite the ESF and the daycare center, this spacious chalet has a common room and an adapted kitchen.
This Savoie gîte is ideal for organizing a tribe stay, celebrating a family event, proposing a ski seminar for companies, bringing together sports clubs or even organizing a wedding…
All your group of 35 people will be able to enjoy the free access to the indoor swimming pool heated to 29°C, the sauna, hammam and spa guarantees you moments of conviviality. You will also benefit from all the services of the Panoramic residence.
If you prefer to spend vacations with your little family, our Panoramic and Tyrol residences have several apartments for rent at the best price in La Rosière.
A gîte for 35 people in the Alps
A rare concept and thoughtful for groups. Our independent chalet is ideal for groups of 35. It is composed of 15 rooms spread over 3 levels with 2 rooms with PMR access and a large common room with equipped kitchen. Connected to the Panoramic residence, it will allow you to benefit from all the services of the residence: spa pool area, cardio room and games room.
To organize your meals, the Alps Chalet for 35 people is in self-catering with kitchen. It is possible for you to have meals delivered by caterer, with or without service included. But also, to go to restaurants near the chalet Haute-Savoie.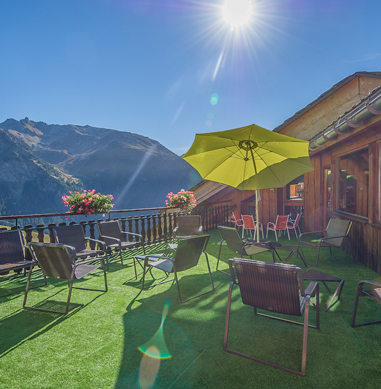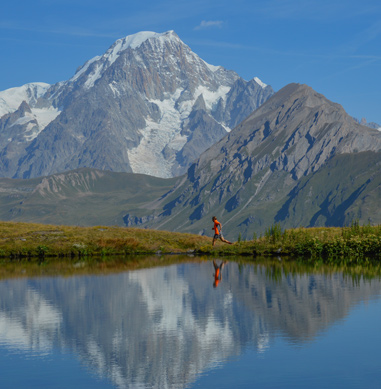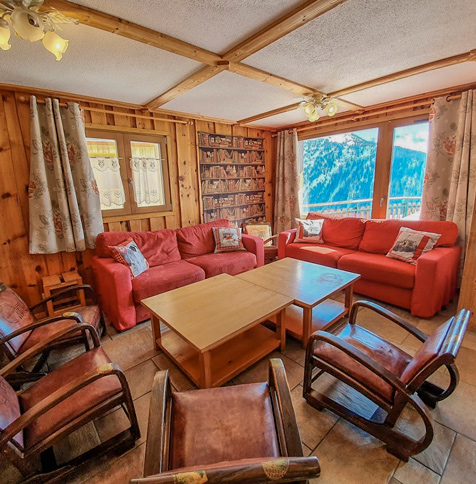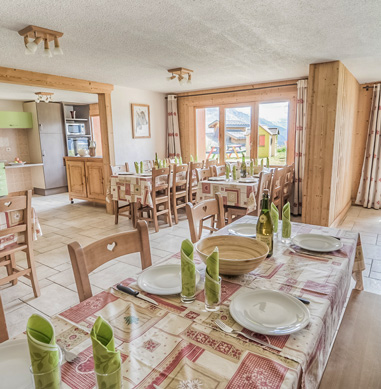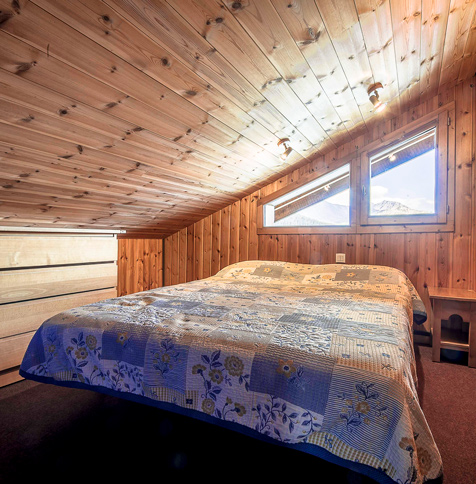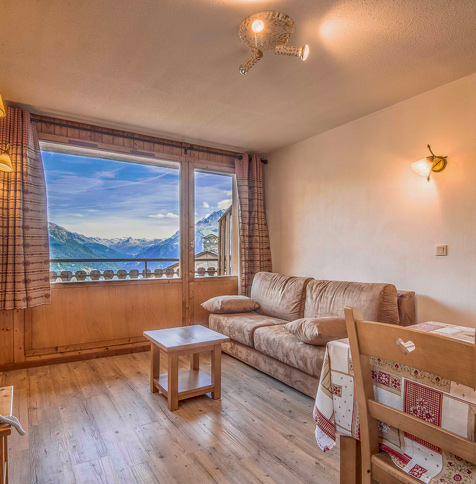 Our shorter stays and weekends with minimum 2 nights depending on our availability. To benefit from the best prices, you have the possibility to choose the all-inclusive package with 6-day Espace San Bernardo ski passes in January, March and April from 230 € / person / week for accommodation + skipass.
No corkage fee!
In options:
Linen (sheets and towels) 15 €.
Cleaning 10 €/person.
Summer week rates:
130 € /adult.
80 € / child from 5 to 13 years.
Free for children under -5 years.
Winter 2021 availability (weekly rental only). Available for the opening weekend of 12/12/2020.
From 03/27 to 04/03/2021 at €4500.
From 10 to 17/04/2021 at €4500.
The other dates are already booked. We may be able to offer you another solution with several apartments and a common room, depending on our availability … It may be worth it to call us at 04 79 06 80 55 or send us an email info@tyrol-panoramic.com.
Chalet for 35 people at La Rosière
Are you looking for a gîte in the mountains to organize a group event for 20 to 60 people in Savoie?
You will find your happiness with our residences le Tyrol and Panoramic les Eucherts. They have a capacity of 20 to 35 people and you will benefit in addition from the access to the swimming pool and all the necessary comfort for your stay.
For large family vacations, we can offer several types of apartments from 2 to 14 people with a common room to eat all together with access to the pool and spa up to 60 people with a minimum of 2 nights.
Rental for groups of 60 people
The Tyrol-Panoramic is suitable for corporate seminars, team building, business meeting, wedding, group of friends, birthday party, family party, sports clubs. According to your event, we are flexible on the distribution of people per apartment. We can offer apartments for 2 to 14 people with a common room that can hold a group of 60 people seated at a table with kitchen. This one is also ideal for a meeting with an overhead projector.
We offer self-catering or breakfast included. For your meals, you can either come with your own cook, or get a caterer on site who will be able to make a provided to suit your needs. We advise you to make typical mountain meals: raclette, tartiflette which are easy to prepare and set up.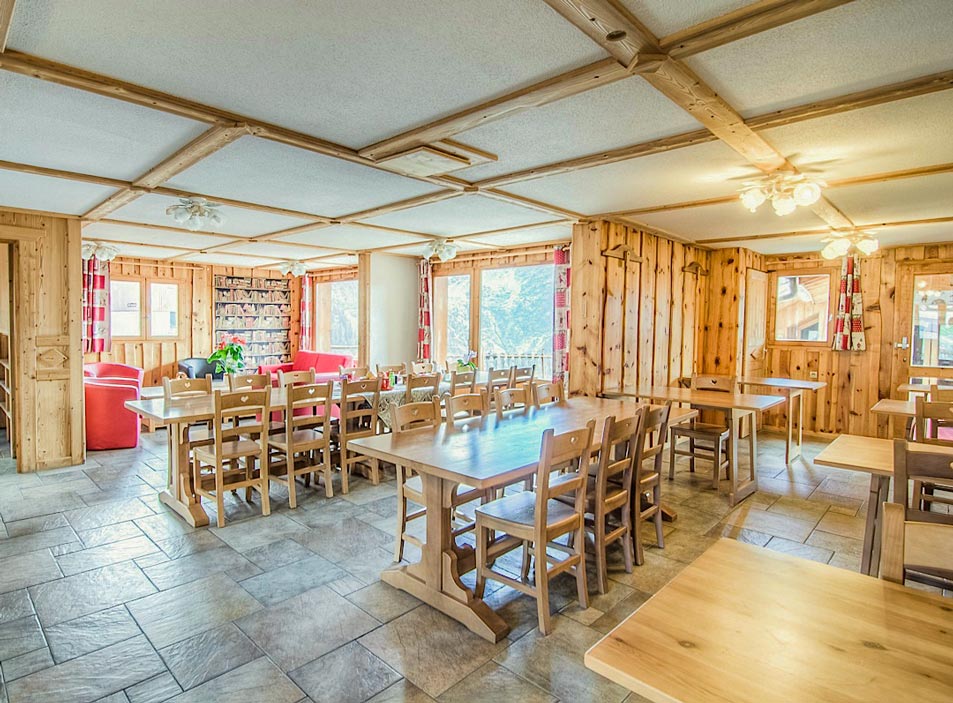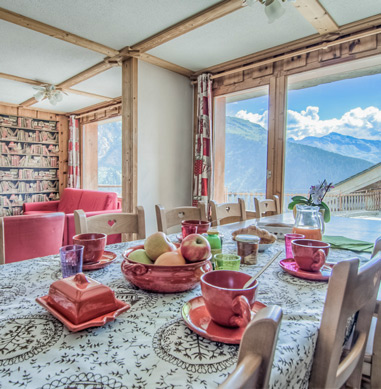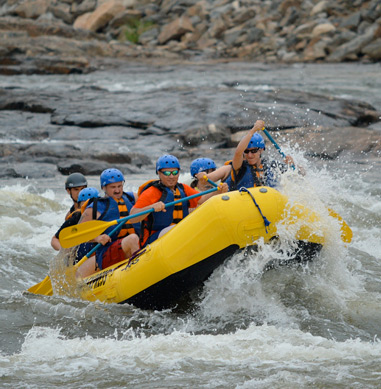 For a group rental for 60 people, you will have access to the chalet's covered and heated pool area, spa, hammam, sauna and gym open all day. Animations are also possible depending on the period : aquagym, pilates, zumba, oxygenation walk and animal observation in summer (stags, hinds, chamois).
Around La Rosière you also have the possibility to do many sports activities in groups of 60 people, according to your desires. In winter, many animations are proposed by the ski schools such as paret, luge, snake gliss, hikes, night outing, off-piste, team building, ski outing in Italy … In summer, we are 8 km from the Petit-Saint-Bernard pass and close to the Mont Blanc on the Italian side (hermes of Pré-Saint- Didier, skyway, mountaineering on glacier, golf, rafting, paragliding, hiking … ).
Our rates
In general, rates at the cottage is €60/adult and €35/child on weekends for both nights.
In options:
Breakfast at 9 €.
Linen (sheets and towels) at 15 €.
Cleaning 10 €/person.
It is best to contact us for a personalized quote with options.
Please contact us by mail info@tyrol-panoramic.com.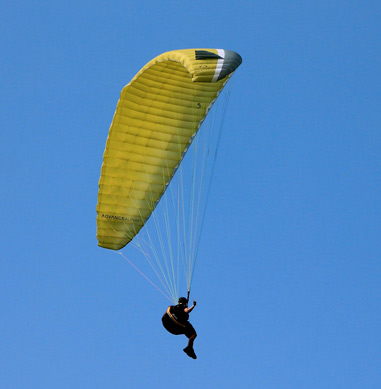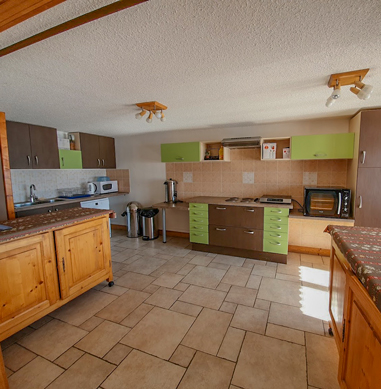 Seminar at La Rosière
If you are looking to have a seminar in Savoie in a typical ski resort, we have a chalet 35 people at the foot of the slopes available in winter and summer.
In free management, you can make your meals yourself or order them from a caterer or negotiate with the restaurant across the street. A modular room will be privatized for your events and business tourism.
Ideal for your sports seminar with the ski schools of La Rosière who will be able to concoct a tailor-made program for you! You are looking to motivate your employees and bond them: do sports activities in a roped party.
Discover the residences and the rates